Product Listing
Gift Certificate
Give the Perfect Gift...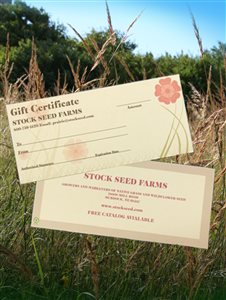 Purchase Gift Certificate
Shipping charges do not apply to this item and will be removed prior to authorization.
You can purchase a gift certificate in increments of $10.00. Just enter the number of ten dollar units in the quantity. For example, if you want a $50.00 Gift Certificate, enter 5 for the quantity.

When you check out, enter your name for the billing address, and your recipient's name for the shipping address. We will send them the gift certificate, along with our beautiful color catalog to help them with their purchase.