Product Listing
Corn Poppy
Papaver rhoeas
Blooms late spring into summer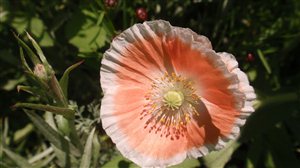 Purchase Corn Poppy
| | | |
| --- | --- | --- |
| Bulk lb - Red | $32.00 | |
| Bulk lb - Shirley Mix | $32.00 | |
| Ounce - Red | $6.00 | |
| Ounce - Shirley Mix | $6.00 | |
| Packet - Red | $4.00 | |
| Packet - Shirley Mix | $4.00 | |
Height Range:
12 - 30 inches
Seeding Rate:
1 oz. / 1,400 sq ft
Seeds Per Pound:
3100000
Colors:

Pink

Red

White

Growing Season:
March - May
Corn Poppies prefer sunny well drained soils and will tolerate some shade. Mass plantings are incredible and easy to grow, while individual plants make excellent cut flowers. This annual flower blooms late spring through mid-summer.
Corn Poppy "Shirley Mix" has red, pink and white flowers with large petals that dance in the wind, making this a perfect flower for your garden or meadow planting.
Red Corn Poppies are various shades of red and can be used as cut flowers or in situations where only red flowers are desired.