Product Listing
Husker Li'l Wildflower
Perfect for gardens, parks and trails.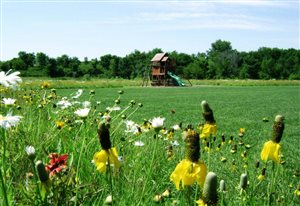 Purchase Husker Li'l Wildflower
| | | |
| --- | --- | --- |
| Bulk lb | $65.00 | |
| Ounce | $6.50 | |
Height Range:
8 - 24 inches
Seeding Rate:
Broadcast: 1 oz. / 150 sq ft or 1 Lb. / 3,500 sq ft | Drilled: 10 Lbs. / Ac
Colors:

Blue

Orange

Pink

Purple

Red

White

Yellow

Growing Season:
February - August
IMPROVED!
Stock Seed Farms has added even more long lived perennials! The Husker Lil' now has 18 perennials and 11 annuals, giving you a mix that will provide blooms and color for many years to come!
Perennial and annual wildflowers are perfect in gardens, parks and along trails. Use the Husker Lil' Wildflower mix anywhere a shorter height is desired. This mixture contains flowers that range from under one foot to slightly over two feet in height.


Seed in mid spring for best results. Annuals give a burst of color the first year, with perennials making their showing in following years. This mix makes an excellent partner with the Prairie 3 Plus Prairie Grass mix.
Wildflowers included: Baby Blue Eyes*, Blackeyed Susan*, Blanketflower, Blue Flax, Butterfly Milkweed, California Poppy*, Canada Milkvetch, Clasping Coneflower*, Corn Poppy*, Cornflower*, Drummond Phlox*, Dwarf Blanketflower, Dwarf Red Coreopsis*, Golden Alexander, Indian Blanket*, Lance Leaf Coreopsis, Leadplant, Mexican Red Hat, Perennial Lupine, Purple Coneflower, Purple Prairieclover, Red Yarrow, Scarlet Flax*, Shasta Daisy, Shell Leaf Beardtongue, Siberian Wallflower*, Spiked Gayfeather, Upright Coneflower, White Prairieclover
*Annuals/Biennials