Product Listing
Habitat Mixture
Great for Erosion Control, as Well!
Wildflower and Legume Combo.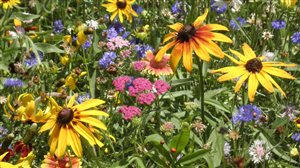 Purchase Habitat Mixture
Height Range:
12 - 48 inches
Seeding Rate:
Broadcast: 1 Lb. / 3,500 sq ft | Drilled: 10 Lbs. / Ac
Colors:

Blue

Orange

Pink

Purple

Red

White

Yellow

Growing Season:
February - August
This wildflower/legume mixture serves many purposes along with its natural beauty. It attracts butterflies and other insects for wildlife food. It also provides nesting cover for birds. Its fast growth stabilizes soil on roadside ditches, dams, waterways and side hills, and acts as a soil builder.

The Habitat Mixture has been developed from many years' experience in providing wildlife habitat, conservation seedings and roadside development seedings. A mixture that can solve many problems, it consists of 36 native and naturalized wildflowers (50% by weight) and 4 legumes that have exhibited success on critical sites.

We recommend you seed the Habitat Mixture with our Prairie 3 PLUS or Prairie 7 grass mixtures USING NO LESS THAN ONE HALF RATE OF EACH.
Species included: Birdsfoot Trefoil, Crimson Clover, Hairy Vetch, Red Clover, Blackeyed Susan*, Blanketflower, Blue Flax, Canada Milkvetch, California Poppy*, Corn Poppy*, Cornflower*, Dwarf Red Coreopsis*, False Sunflower, Gloriosa Daisy, Gold Yarrow, Golden Alexander, Grayhead Coneflower, Indian Blanket*, Lance Leaf Coreopsis, Lemon Mint*, Mexican Red Hat, Missouri Primrose, New England Aster, Ohio Spiderwort, Perennial Lupine, Plains Coreopsis*, Purple Coneflower, Purple Prairieclover, Scarlet Flax*, Shasta Daisy, Showy Evening Primrose, Showy MIlkweed, Showy Partridgepea*, Sky Blue Aster, Smooth Blue Aster, Smooth Penstemon, Spiked Gayfeather, Thickspike Gayfeather, Upright Coneflower, Western Yarrow
*Annuals