Product Listing
Indiangrass
Sorghastrum nutans
A tall grass with a golden-plumed head.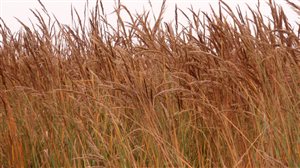 Purchase Indiangrass
PLS lb
$13.50
20+ : $12.00

| | |
| --- | --- |
| Height Range: | 60 - 84 inches |
| Seeding Rate: | Broadcast: 1 PLS Lb. / 2,000 sq ft | Drilled: 8-10 PLS Lbs. / Ac |
| Seeds Per Pound: | 175000 |
Indiangrass is a native warm-season, bunch grass that is adapted to a wide range of soils. It thrives on well drained bottom land, but can also grow in sandy soils. At maturity in September, this grass has a golden, plume-like head and reddish-yellow foliage making it one of the most beautiful of the native grasses. It is one of the most important native tall grasses for its palatable and nutritious forage for livestock. Other uses include valuable wildlife habitat, and a great landscape plant.

NEW! Scout Indiangrass

Sorghastrum nutans (L.) Nash This new cultivar is an exciting new Indiangrass from the Agricultural Research Service, USDA, and Institute of Agricultural Sciences and Natural Resources at the University of Nebraska. Scout is adapted to a wide range of the Great Plains and Midwest. It was developed due to a need for an Indiangrass with similar adaptation to NE 54, but with improved forage yield and digestibility. In trials with other Indiangrass cultivars, Scout has significantly better hay and forage yields along with high in vitro dry matter digestibility, giving better animal gains in beef cattle when used in well managed grazing systems. Scout has also shown exceptional first year establishment and vigorous growth.