Product Listing
Finish Line Cover Crop Mix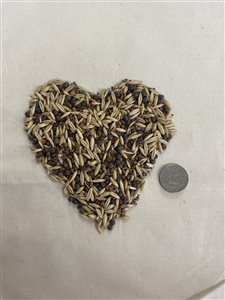 Purchase Finish Line Cover Crop Mix
| | | |
| --- | --- | --- |
| Bulk lb - Finish Line | $1.25 | |
| | |
| --- | --- |
| Seeding Rate: | Drilled: 20 lbs/Ac. | Broadcast: 25 lbs/Ac. |
This cool-season cover crop mixture is a multi-purpose blend, similar to the equalizer mix, designed to help you accomplish a wide variety of goals.
The species included in this mix have been found to help maximize soil health by working to reduce compaction and scavenge nutrients.
This cover crop mix can also double as an excellent late-season feed source for grazing livestock.
This mix is best if planted in late summer to mid-fall.
What's Inside:
25% Purple Top Turnips
25% Common Vetch
20% Cover Crop Radish
15% Flax
15% Oats