Product Listing
Season Finale Mix
Winter Terminating Cover Crop Mix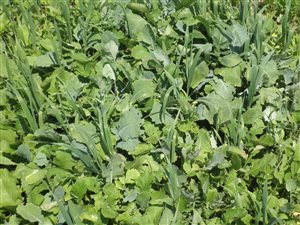 Purchase Season Finale Mix
| | |
| --- | --- |
| Seeding Rate: | 2 lbs/1,000 sq ft |
| Seeds Per Pound: | 29400 |
The Season Finale cover crop mix has been specifically designed for gardens to scavenge nutrients, suppress weeds, and reduce soil compaction in your garden. As fall approaches and gardening season comes to a close, using cover crops to improve soil quality is an excellent way to prepare your for the next growing season!
All items in this mix will winter terminate.
Oats are excellent scavegers of nutrients. Buckwheat and Flax have been shown to assist in the mobilization of Phosphorus in the soil making it more plant available. Rapeseed, Radish and Turnips will alleviate soil compaction and scavenge nitrogen in the soil. Each of the components included in this mix will also add organic matter to create a more healthy, fertile soil.
Species: Oats, Buckwheat, Flax, Radish, Purple-Top Turnips, Rapeseed